By Jimmy Jackson
The Making of Champions is set to discover new stars and revolutionize grassroots school athletics in Nigeria.
Deji Ogeyingbo, Making of Champions (MOC) Country Manager disclosed this today in Uyo while addressing journalists ahead of tomorrow's Athletics Championships.
The championship which is taking place in 4 cities across the nation – one each in Southern, Eastern, Western and Northern Nigeria – from October to November 2023 will be kick start in uyo from Thursday 26th–Sat 28th October 2023.
Yemi Galadima, senior sport writer, Making of Champions highlighted the achievements so far recorded with the discovery of talent over the years and developing Athletes that will deliver global medals and become future sporting legends for Nigeria.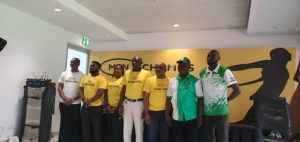 The Regional General Manager for MTN, South, Mr. ThankGod Otorkpa, highlighted the importance of discovering young talents and giving them the global recognition.
"This MTN Champ is a platform where young talent are spotted, groomed and then put on the global map." He stated
Also speaking, Mr Emmanuel Ebong, Vice President Nigeria school sports thanked Making of Champions for choosing Akwa Ibom emphasizing that the state have a structure, especially the grassroots sport development in the state incorporating with the school curriculum.
MTN CHAMPS have 3 age groups, with the Cadet (U14) and youth (U17) categories strictly open to Junior & Senior Secondary Schools respectively to contest the 7 School Titles available in each city, while the Juniors (U20) is open to all other teenagers, who may also compete in Teams (e.g. Club, State, School, Uni, etc) for each city's Junior Team Title.
Present at the press conference were representative from Nigeria School Sport Federation (NSSF), the Athletics Federation of Nigeria (AFN) and some school officials in the state.